Pipeline Inspection
Pipeline Inspection Using Eddy Current Array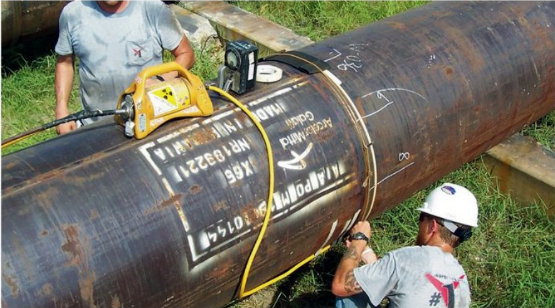 Radiography Testing
The radiation used in radiography testing is a higher energy (shorter wavelength) version of the electromagnetic waves that we see as visible light. The radiation can come from an X-ray generator or a radioactive source.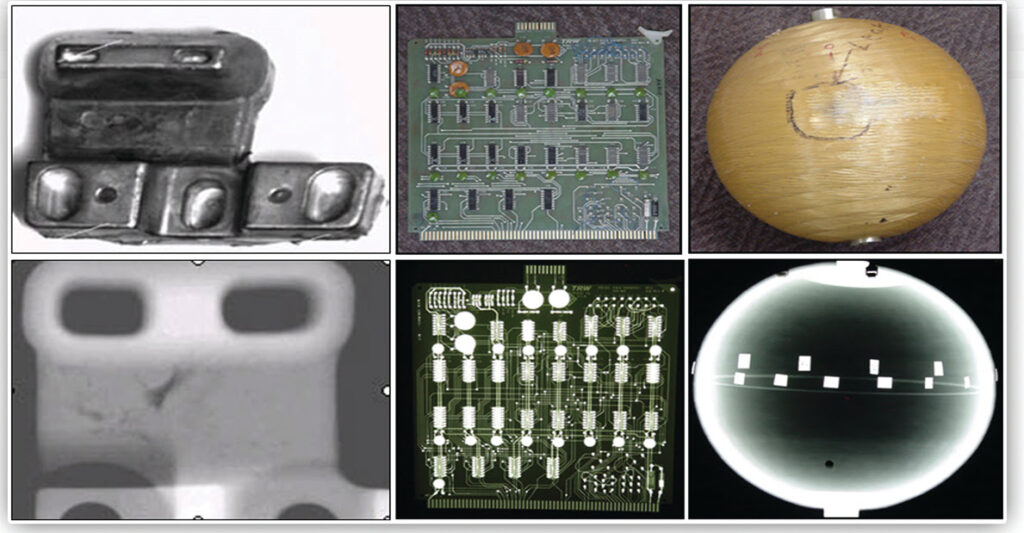 Film Radiography
• The part is placed between the radiation source and a piece of film.
• The part will stop some of the radiation.
• Thicker and more distance area will stop more of the radiation.
• The film darkness (density) will vary with the amount of radiation reaching the film through the test object.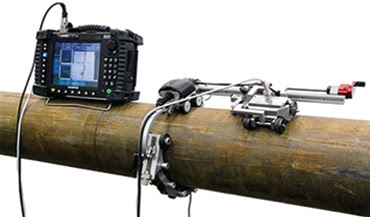 Service inspection of pipeline is a challenging yet crucial operation, particularly for pipes buried under ground. After scanning the pipeline from the inside with the proper equipment, sections that present any anomalies are excavated. Once the specific section of the pipeline is accessible, the entire surface of the exposed pipe is sand-blasted until the coating is completely removed. Traditional surface inspections such as magnetic particle inspection (MPI) require this kind of intensive coating-removal preparation procedure.
Detecting surface breaking cracks, including stress corrosion cracking (SCC), even though the technique has been used for pipeline inspection for decades without any major advancement.
MPI method also presents some significant Disadvantages: the reliability of results is highly dependent on operator skill; when it's raining, outdoor inspection is problematic; and there is no result traceability or information on the depth of flaws that are detected.
However, these weaknesses can be resolved by using a different.
Eddy Current Array : Eddy Current Array Semi automated Solution for Pipeline Surface Cracking Inspection.
Gamma offers a variety of solutions solutions for surface crack detection on ferromagnetic material.
One of these solutions is based on existing equipment. Gamma customers already use for PA weld Inspection, The Omni Scan MX, the Hydro FORM scanner and the CHAIN scanner. Here is how it works: First, the Hydro FORM buggy, which is equipped with a specially designed ECA probe, is attached to the CHAIN scanner. Then, the scanner and probe assembly is connected to the Omni Scan MX with the ECA module. This equipment combination enables two-axis mapping of the inspected area of the pipeline. Unlike MPI, ECA inspection is able to record data for advanced reporting and result traceability. Detection sensitivity can be adjusted to show the severity of the indication or to set an inspection threshold that will reject a specific defect depth. According to the capacity of the CHAIN scanner,this solution is applicable to pipes ranging from 1.75 to 38 in. OD.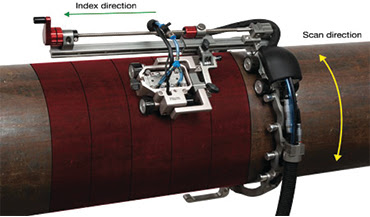 XY Mapping Principle On Pipes With The Hydro Form And CHAIN Scanner.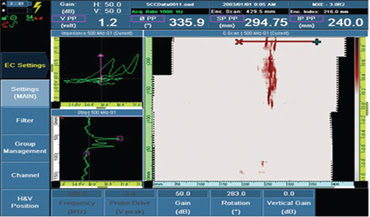 Scan For Stress Corrosion Cracking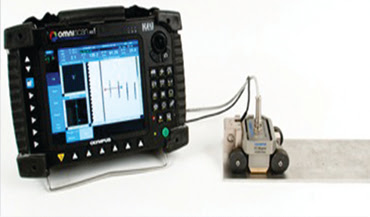 Calibration over reference material and specific EDM notches.
Advantages of Eddy Current Array Over The Standard Surface Inspection Methods:
Using eddy current array (ECA) technology for stress corrosion cracking helps keep surface preparation to a minimum.
With acquisition speeds of up to two meters per second, performing an inspection with ECA is also extremely fast.
Instrument calibration is very simple; all that is required is a material sample with target defect to ensure that the sensitivity is adjusted properly.
Setup files can be saved and easily recalled for subsequent jobs. The data recording function permits post-process analysis as well as data archiving, and reports can be easily created directly on the instrument.
• Major time savings when compared with MPI.
• Intuitive imaging, very similar to MPI and PT displays.
• Solution uses existing standard phased array scanner.
• Result traceability and post-process analysis.
• High scan speed and instant results.
• Defect depth evaluation capability.
• Adjustable sensitivity.
• Environment-friendly method (no chemicals involved).
Equipment Required:
• Omni Scan ECA
• Omni Scan MX mainframe (which can also be Used for phased array inspection).
• C-scan view.
• Battery operated.
• Drives up to 32 channels and up to 64 Channels with an external multiplexer.
• Encoded or time-based scan.
• Data and setup recording.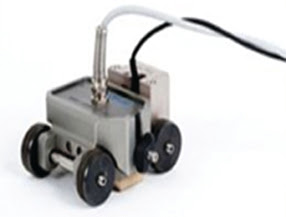 NDT Methods, Facilitating The Interpretation Of ECA Signals.
Scan using a standard ECA probe that features the same color representation as the red dye PT (patent rights protected) .
The sensitivity can be adjusted to reveal more or fewer defects. A Variety of Familiar Color-Palette Choices Offering More Possibilities The MXE 3.0 ECA software features a range of patented intuitive color-palette representations that replicate the look of traditional NDT methods, facilitating the interpretation of ECA signals.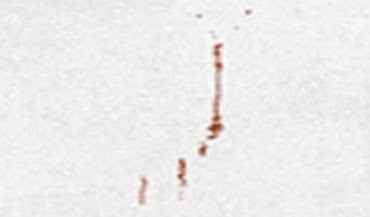 Part inspected with penetrant testing (visible red dye)

Penetrant testing(fluorescent) – Magnetic particle (black powder) – Magnetic particle(fluorescent)